NEED disc golf course installed?
Selling, designing, and installing disc golf courses is our "Tent-Making" job.   The proceeds help support our main calling which is sharing the Gospel world wide. Since 2005 I have installed over 33 disc golf courses for camps in 21 different states.  In three out the last five years, my wife and I were honored to represent INNOVA Disc Golf  at the Christian Camps and Conference Association's National Convention.  And in 2016 we began representing them to the American Camping Association and KOA Kampgrounds. 
In three days, I can design and install a 9-Hole Innova DisCatcher® Pro-28 Professional Target Course at your ministry location.
References:
"We had Texas Department of Transportation out recently to play the course and they said it's the best design in Wichita Falls.  Thank you brother.  
Charles Hill – Director, Camp Chaparral (Iowa Park, TX)
"We had been wanting to put in disc golf at our campground for over a year but wasn't sure how to get it done.  We were so happy that Jackie was at the KOA convention in November.  He came and designed a course way better than we could have imagined it to be on our particular land.  He knew just what to do and gave us a very fair price, and had the course done in just a couple of days. We can't wait to open this Spring so our campers can enjoy it."
Stephen Bentley, Paris Landing/ Kentucky Lake KOA
Camps are my specialty!  Recent camp projects include:
Wheat State Conference Center (KS) 2019
Harmony Campground (Weatherford, TX) 2019
Williamsburg KOA (VA) 2018
Pine Ridge Bible Camp (MI) 2018
Port Huron KOA (MI) 2018
Highland Retreat (VA) 2018
Kirkwood Camp (PA) 2018
Judson Baptist Retreat (LA) 2018
KOA Newton, Iowa  2017
KOA Staunton / Walnut Hills, Virginia 2017
Hillmont Christian Camp, Whitebluff, TN, 2017
Hidden Falls Ranch (Design only) TX.  2017
Variety's Peaceable Kingdom Children's Retreat (TX) 2017
Mt. Pleasant / Charleston (SC) Design only (2017)
NEWARK, AR Cedar Ridge School (18 hole complete – 2016)
Paris Landing  KOA (TN)
TimberCreek Camp, MS (18 hole install only-2016)
Leoni Meadows, CA (2015)
Joy El, Pennsylvania 

(2015)

Wld Ranch, Pennsylvania 

(2015)

Riverview Conference Center, Iowa 

(2015)

Moon Beach Camp, Wisconsin 

(2015)

Lake Waubesa Bible Camp, Wisconsin 

(2015)

Camp Lawroweld, Maine
Camp Waianae, Hawaii
Camp AREV, California
Camp Copass, TX
Cedarkirk Camp – Lithia, Fl (2014)
Acadian Baptist Center – Eunice, LA
Seneca Lake Baptist Assembly – Ohio
Camp Chaparral – Texas
Lake Yale Baptist Conference Center – Florida
Spring Heights Retreat Center – West Virginia
Camp Zephyr – Texas
Virginia Nazarene Camp
Latham Springs Camp and Retreat Center (near Waco, Texas)
When I drive off, the course is ready to play!
---
Equipment & Costs:
PRO-28 DisCatcher Targets
(Permanent or Portable): $325 / each when ordering 6 or more.
Permanent model comes with a 2 ft. steel sleeve that gets concreted into the ground, just below surface. Permanent target slides into sleeve and can be locked into place. We use DisCatcher Pro 28 Targets by Innova® (Pro Permanent or Pro Portable) These are the  industry leading 28 chain targets.
9-Hole Course: $2925 plus appx $450 shipping
This is the "factory direct"  target price.
Turn-Key Course Design and Installation Available.
That is my specialty. Takes less than 3 days.
Call for a quote: 800-438-1026
Optional Items
TEE SIGNS  – 9 holes plus rules sign:  10 x 15  inch .080 aluminum, full color including camp logo, length, par, and hole description:  
$299 for set of 9.    10 x 15 inches, .080 aluminum.
Extra signs $30 ea.
Check out these recent sample signs we've done.  To get signs for your camp or campground, stand at your tee area, sketch the layout of the hole (trees, obstacles, etc), measure the distance, then email the sketches to me (along with your full color logo  and par).  Within a few days, you will have a proof to look at and when everything is approved, you will have your signs within three weeks.  EMAIL us today! Or call 800-438-1026 if you have questions.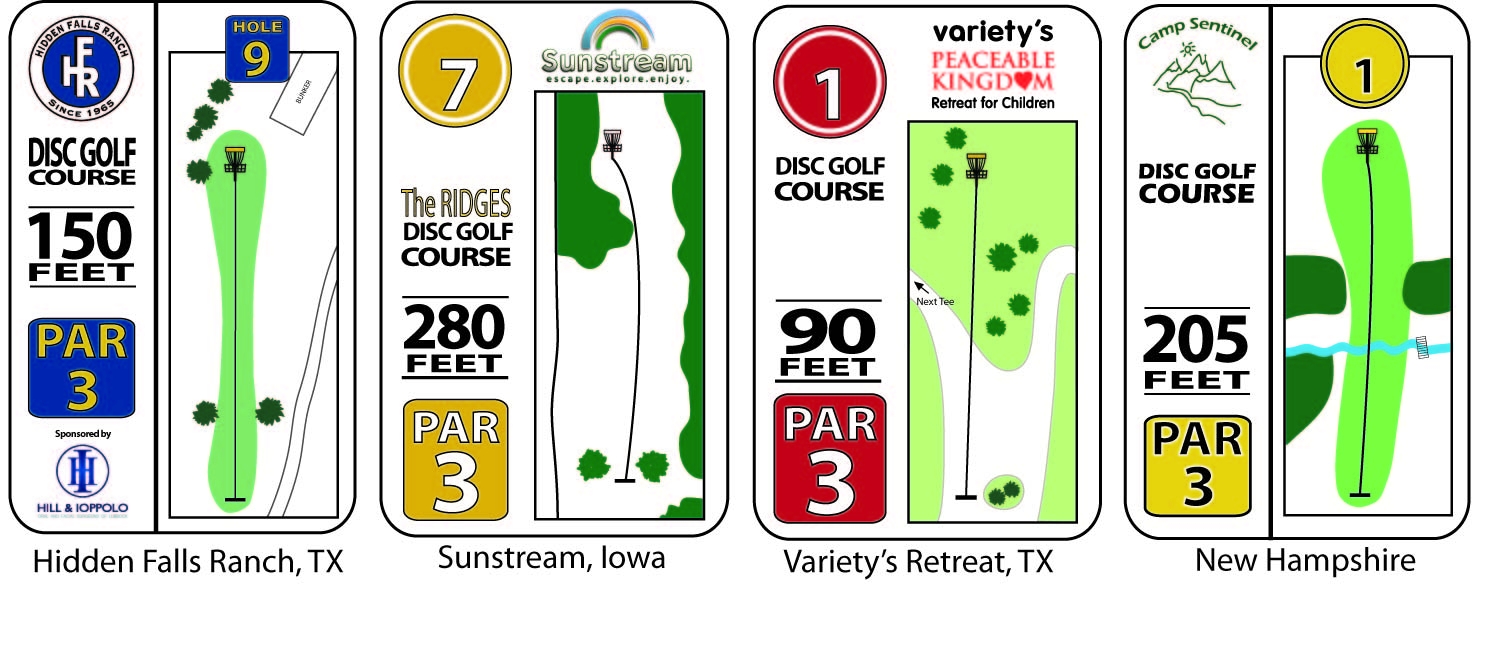 ---
"I recommend Jackie Gibbs, and Slip Disc Ministries, without reservation to anyone who is considering adding a disc golf course.
The Turn-Key Package offered (equipment-design-installation) was handled with professionalism, and done so by a man who without a doubt has a heart for service and ministry. The final product of our 12 Hole Signature Course is excellent, and we could not be more pleased."
Andy Strecker, Former Recreation Director
Latham Springs Camp & Retreat Center in Waco, Texas
---
About The Designer – Mr. Jackie Gibbs
Being a youth pastor for over 21 years full time, as well as having 26 years of Disc Golf playing experience gives me a keen insight into the special needs of the camp and church disc golf market.
30 Years of Disc Golf Play Experience
21 Years as a Full Time Youth Pastor (Ordained Minister)
Co-Founder of Slip Disc Ministries
15 Years of Disc Golf Course Design Experience
My wife & I have been promoting the company, INNOVA® Disc Golf,  to the Camp and church market for 14 years, and were honored to represent their East Coast Office at the 2010, 2011, and 2013, and 2015, & 2016 Christian Camps and Conference Association's National Convention. Plus regional American Camping (ACA), Parks and Recreation,  and the national KOA Kampground EXPO in 2016 and 2017.