Playing catch with the Slip Disc allows you to CONNECT with someone's life.
And when you CONNECT, you can share the Gospel which is clearly printed on the underside of the discs.
Choose From Five Messages  in Ten Languages.
A cool logo on the top – The Gospel on the underside decal.
Available in English, Spanish, Russian, Romanian, Portuguese, Haitian Creole, French, Ukrainian, and more.
 See Outreach Disc Options (and Languages)
Because of the high quality and flight characteristics, the disc is guaranteed to get tossed  but never into the garbage.  And each time it is tossed,  someone is likely to check out the underside message explaining God's love and forgiveness.   Evangelism without the stress.  We call this "Ministry Mileage".
PRICING
5 -24 =$2.45 ea, 25+= $2.35,  100+ = $2.25 ea,  200+ = $2.15 ea, 500+ = $2.05 ea, 2500+ = $1.95 ea.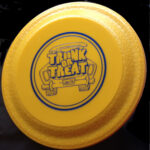 New For FALL – TRUNK OR TREAT outreach discs
Available by phone (800-438-1026)  or EMAIL order only for $1.99 ea. plus shipping.  You can get a mix of messages and languages.