Description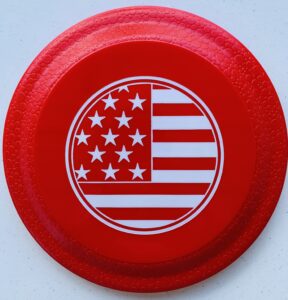 PRICING
Prices starting as LOW as $2.20 in quantity!
Quantity discounts are based on the total number of Slip Discs ordered. 
5 – 24 = $2.85 each     25 – 99 = $2.75 each    100-199=$2.65 each    200 – 499=$2.55 each
500 – 2499 = $2.40 each    2500+ = $2.20 each
You will have hours of rewarding fun presenting the gospel with this  great looking, high quality,  flying disc while demonstrating a patriotic spirit! Our flag discs come in blue and red although you may request a larger variety of colors depending on availability. The underneath label with the clear presentation of the Gospel message provides an easy way for anyone to transition into a Gospel conversation. For those occasions when time or circumstance does not allow for a conversation, just give the frisbee as a gift that will certainly be read over and over again.
All discs come standard with the SLIP DISC Flag logo on the front. We also offer discs customized with your own logo art
Target Audience: Children/Youth / Adults
Actual Decal Size: 6.25″ Diameter
Full Flying Disc Size: 9″ Diameter